Craving for a much-needed break to the quintessential Darjeeling this summer? Then buckle up to feed your wanderlust with the divine serenity of the snow-capped mountains, lush green forests, and captivating wildlife of this breathtaking hill station, as we present the best luxury hotels in Darjeeling to make you experience the best of world-class amenities on budget.
As a popular tourist spot, the mesmerizing Darjeeling has visitors pouring in all year round and so finding a standard hotel for a few days of stay isn't a big deal here. But are you ready to pay a hefty tariff for a hotel that cannot provide you with modern facilities, prompt services, and most importantly, spectacular natural views from your room?
We are sure you already nodding in the negative, and so we welcome you to Anutri Hill Resort, one of the highly-rated luxurious hotels in Darjeeling, to offer you uncompromising royal treatment at the best price that you could ever imagine.
Are you curious to know what sets us apart from the crowd of other best hotels in Darjeeling?
Keep scrolling to book the best resort for your next trip to this stunning hill station.
Perks of Check-In with us
We don't take pride in being the best in the lot but strive to deliver the best of hospitality services, basking on the positive reviews and experience of our happy customers. At Anutri Hill Resort, we leave no stone unturned to confirm it's not your last check-in with us and offers unmatched services to be your next second home every time in Darjeeling.
Serene Location with stunning visual treats:
To ensure you enjoy your much-awaited rejuvenation amidst nature from mundanity, we are located at Upper Batasia, away from the hustle-bustle of Darjeeling city. Besides, our impressively designed rooms are our USP in offering you a panoramic view of the gorgeous Kanchenjunga on the right and the Batasia Loop to the left.
Rooms and suites that suit your taste
Our well-furnished, recommended rooms and world-class suites are designed to make you feel at home with royal treatment guaranteed. At Anutri Hill resort, you get your choice of rooms and suites that fit your requirement and budget. All our impressively-designed rooms are equipped with modern facilities and stunning décor to make your stay with us comforting and worth cherishing.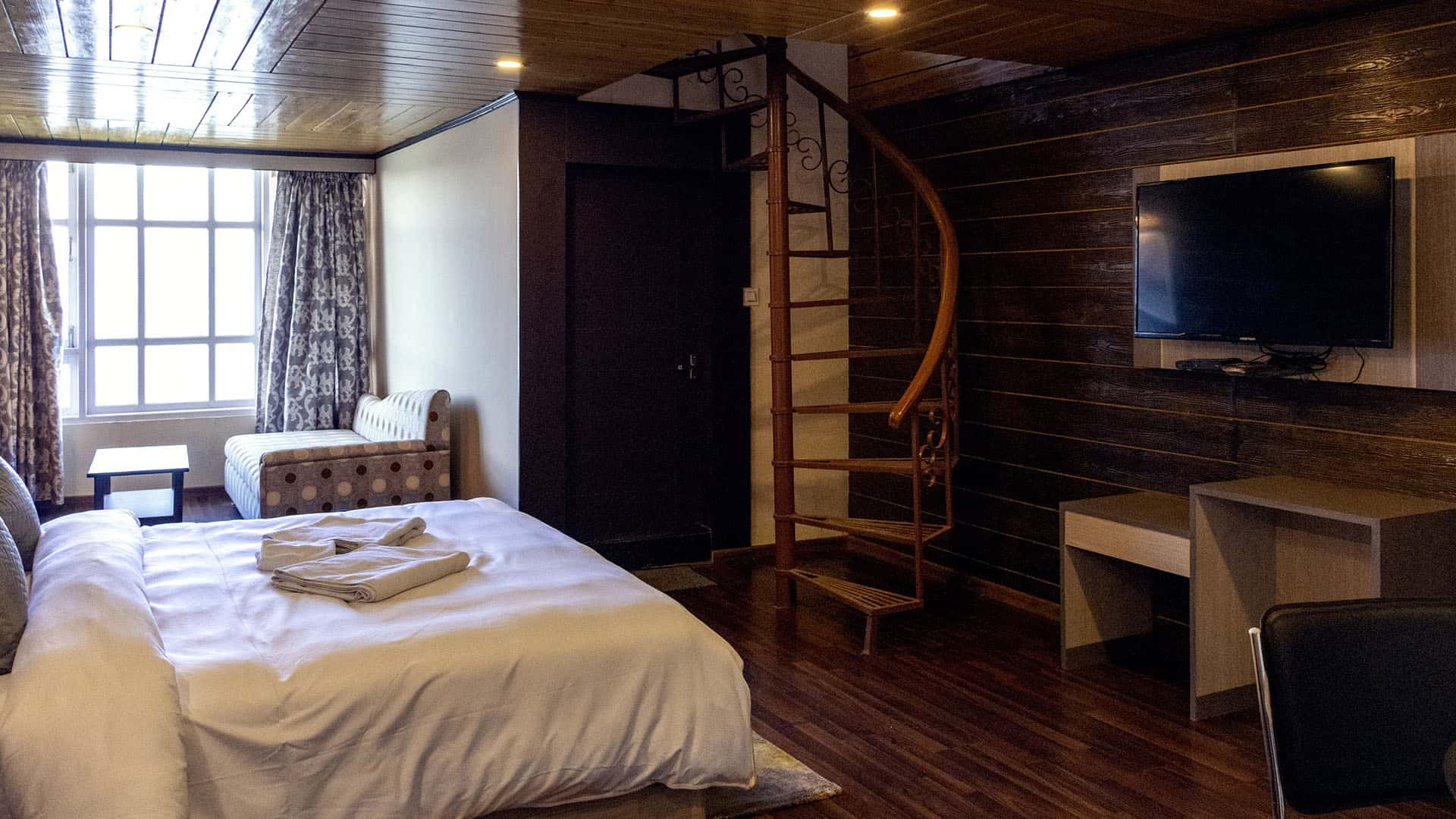 Uninterrupted free Wi-fi:
Whether it's about making the insta world jealous with your stunning vacation pictures or streaming your favourite shows online, you can do it all with our uninterrupted Wi-Fi connectivity from your cosiest space.
Fine dining and treats
Besides relishing local delicacies, you get to treat your tastebuds to various delectable dishes at our multi-cuisine restaurant here. Whatever is your food mood, just place your order and we serve you the most delicious cuisines that you can enjoy eating amidst mesmerizing natural ambiance. Keeping in mind our customer's satisfaction, we also offer Jain food along with various other comforting cuisines for all.
Banquet Hall:
Planning a party or celebrations in this quintessential heritage resort? We offer you a spacious banquet hall with prompt services so that you can have uninterrupted fun and gala celebrations with your friends, family, and corporate team.
Car rental and parking:
Want to take a ride around the city but don't have a car? Don't worry, we offer car rental services at a reasonable price that you can book at a call away and enjoy a fun time touring around with your family. If you are driving all the way here, you can avail our convenient car parking services.
Experience a luxurious vacay in Darjeeling
We know, with so many top hotels and other popular stays mushrooming in Darjeeling, it gets extremely difficult to book with a standard hotel at the last minute. Sometimes, even if you manage to get rooms with a deluxe hotel, you might not get everything you want to spend your best vacation in the 'Queen of Hills'.
But here at Anutri Hill Resort, one of the best luxury hotels in Darjeeling, we offer you world-class staying backed by our 24*7 prompt services, high-end amenities, and best-ever hospitality, which is our USP to make visitors come again and allow us to serve with love.
Besides enjoying our royal treatment on time, you also get visual treats of the mightiest and most stunning Kanchenjunga, Batasia loop, lush greenery, and various mind blowing scenic beauty and vistas from our every room.
To ensure you get the best room with the finest facilities and views, we have fully-equipped rooms in different styles and price ranges to fit your requirement. By booking with us, you enjoy your dream luxurious stay in Darjeeling with all essential hotel services at your doorstep.
Protip:
Want the best room with the best views at an unbeatable deal? Book your room fast at Anutri Hill Resort to enjoy a luxurious vacation anytime and get lost in the charm of the beautiful Darjeeling far from the mundanity of the concrete jungle.